ABOUT
About Kyohanayado Hontei
7 minutes' ride by bus or taxi from Kyoto Station
A private rental lodging in Horikawa-Matsubara
Nijo Castle and Nishi Hongan-ji, two famouse World Heritage Sites are located on the Horikawa St., and and the legends of Benkei and Yoshitsune is preserved in Matsubara St., aka old Gojo St. Kyohanado is located in the intercross area of these two streets, called Horikawa-Matsubara. With 7 minutes' ride by taxi from Kyoto Station and great ease of access to famous sightseeing spots, you can make Kyohanado as your sightseeing base in Kyoto.
Concierge service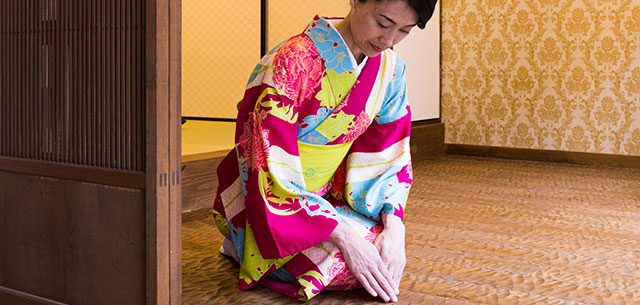 A dedicated concierge will answer to your various needs.
Sightseeing information, activity suggestions, information about places to eat out, transport reservations for rental bicycles, taxis, etc., and much more, contact our concierge whenever you need an urgent assistance.
Free WiFi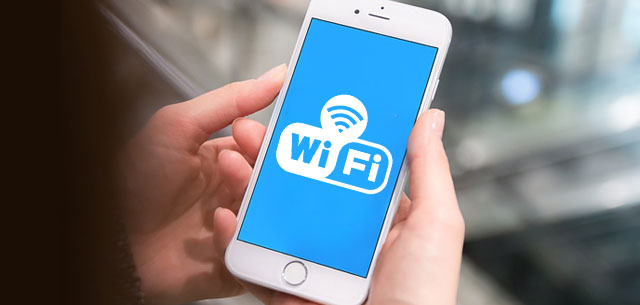 Easy to use internet environment to help you on your travels.
At Kyohanayado, a free internet connection via a convenient WiFi connection service is available in all guest rooms. From smartphones and tablets, feel free to connect your electronic devices to the internet and enjoy.
Free domestic and international phone calls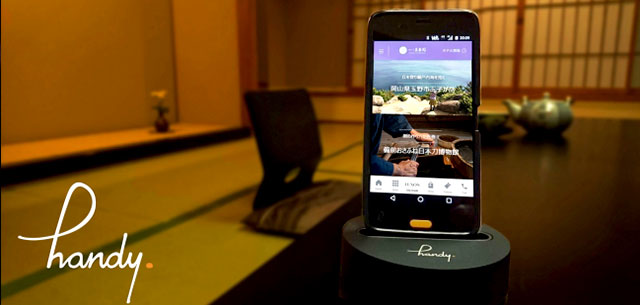 We lend a phone for free calls, as a service for those staying here.
Both domestic and international calls are free and unlimited. You can call abroad to your own home.
Please also use it when contacting your concierge directly when check-in.
Rental bicycles & taxis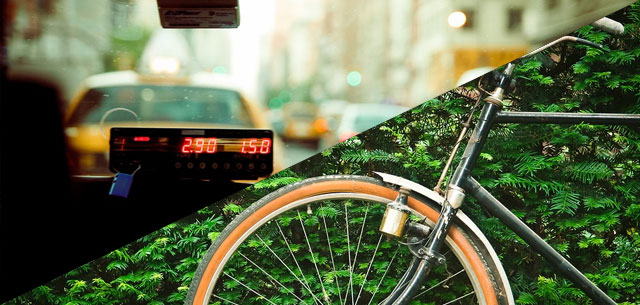 Rental bicycles
*¥1100/day per person, delivery fee (bicycle) ¥300 each, please pay at the location on the day.
*Delivered to you at 8:00 am on the day of use (please be aware that delivery may be delayed slightly depending to on traffic conditions).

Taxi booking contact numbers
*Japanese language only number: 075-693-5489
*English language only number: 050-3385-8132
*At busy times please also use this number (Japanese language only): 075-842-1212
Luggage delivery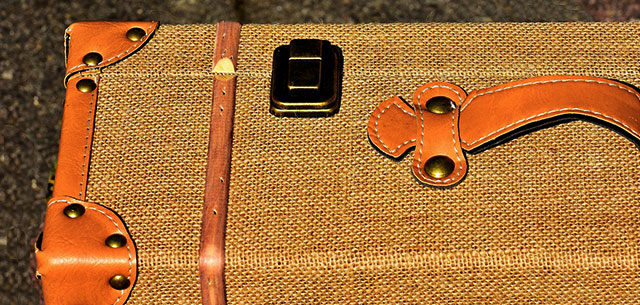 We offer advance luggage storing.
If you require your baggage delivered before check-in, bookings are taken at the "Delivery Service" in Kyoto Station Hachijo Exit.(Delivered to the lodgings at 17:00 at latest)
Delivery service after check-out is also available. (Pickup at Kyoto Station after 14:00 at earlies)

*Delivery service
*TEL : 075-211-6541
Breakfast service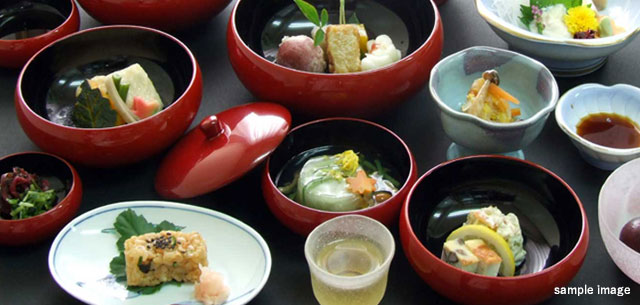 Breakfast delivering by request
Enjoy a breakfast of Buddhist iron bowl cuisine from "Izusen", an old Kyoto restaurant.
Bowls modeled after iron bowls, which originated far away in India and spread to Japan in the Nara era, filled with the flavors of the current season.
Get a taste of the spirit of Zen and the traditions of Kyoto cuisine, in an experience unique to Kyoto.

*¥2,000 per person (orders taken from 2 persons or more)
*Delivered to the lodgings between 7:30 - 8:00
FACILITY
Facility information

150-year-old with distinctive wooden construction was fully renovated and opened as Kyohanayado Hontei in July 2017.

The culture of Kyoto community building developed on the basis of workplaces and residences co-existing together is passed on and continues to live even today.

As the lodging is a private rental, there are no regular staff present -Kick back and relax in your own private townhouse space.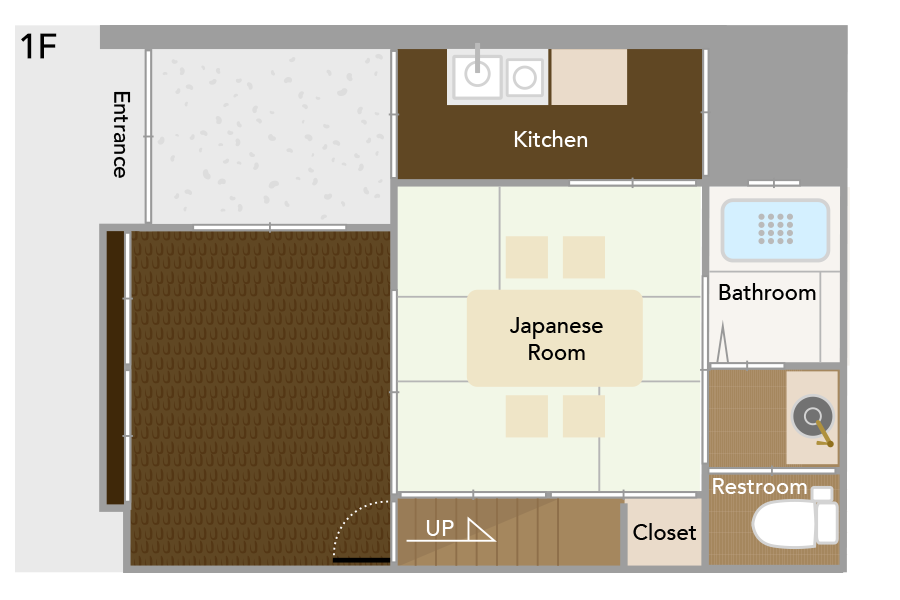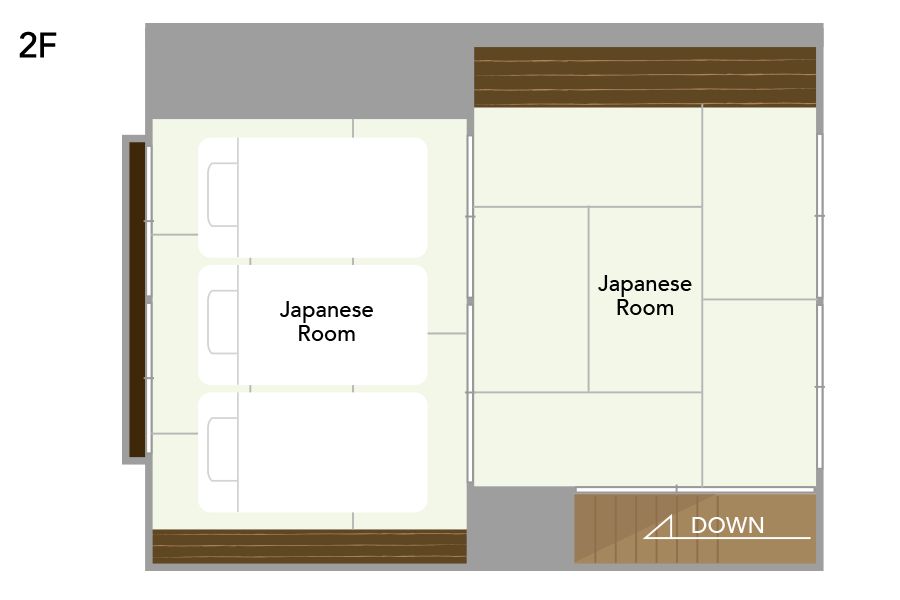 Exterior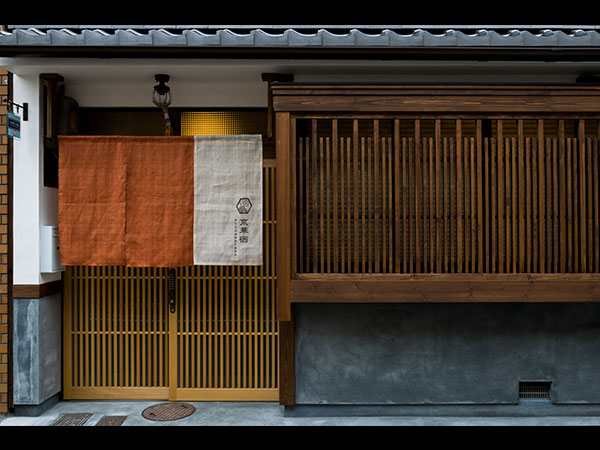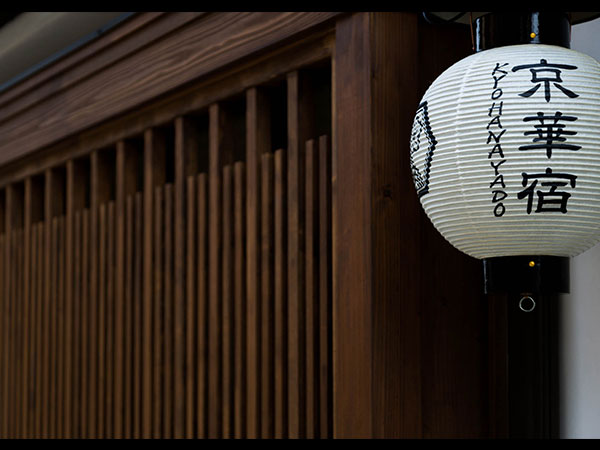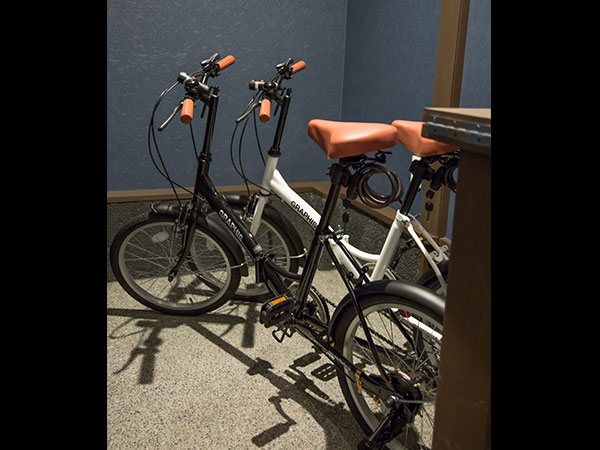 The wooden lattice characteristic of Kyoto townhouses and the waist high mortar-work are finished in pleasing colors. The shop curtains, lantern, and cute sign created by Kyoto craftsmanship really stand out.
Entrance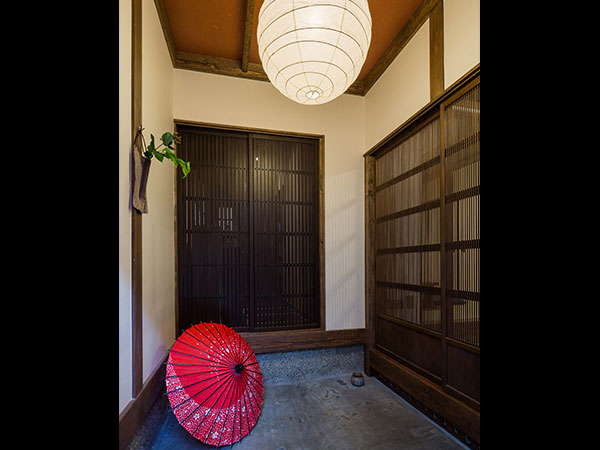 A light shaped like an extra large lantern waits to greet you. The kitchen and living room can be seen through gaps in the thin slits of the traditional townhouse furnishings. When using the drying rack, please use it in here.
Lounge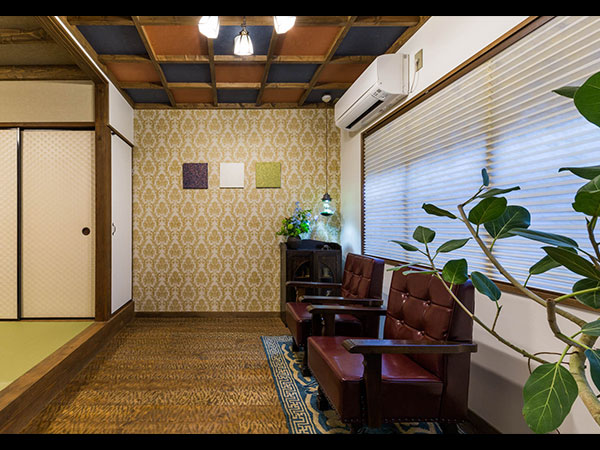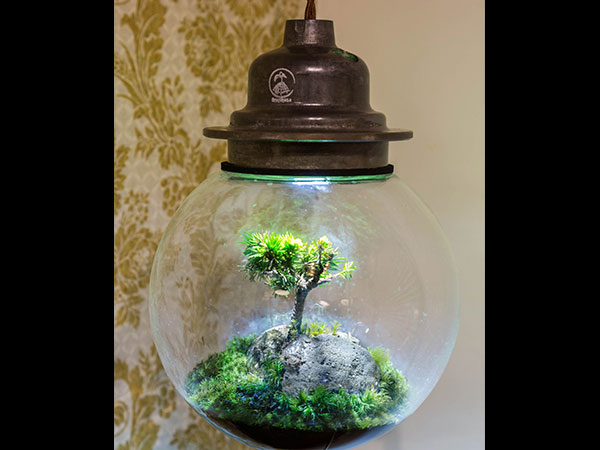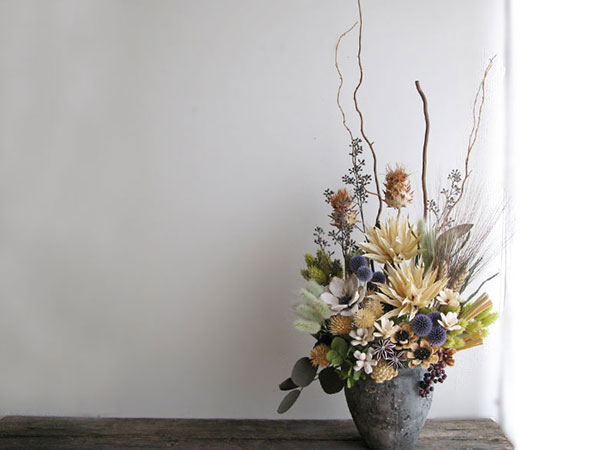 he flooring of the lounge makes use of natural Bordeaux pine, grown in France and with an appealing antique appearance. As the floorboards are thicker than standard, they have the special characteristic of being cool in summer and warm in winter. They feel simply great underfoot. Please do try and feel for yourself. You can also enjoy the microcosm "Space Colony" created by sphere and plant, and dry flowers from blow in house, who grant an eternal beauty to ornamental plants.
1st floor Japanese room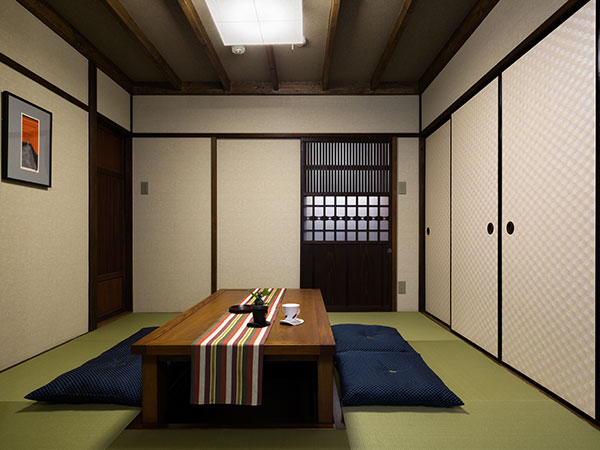 Japanese style room used "Ryukyu Tatami "(Okinawa style Japanese mat)" with "Horigotatsu" offers you and your loved ones a warm and relaxing time. Television set and Bose audio sets are free to use.
Kitchen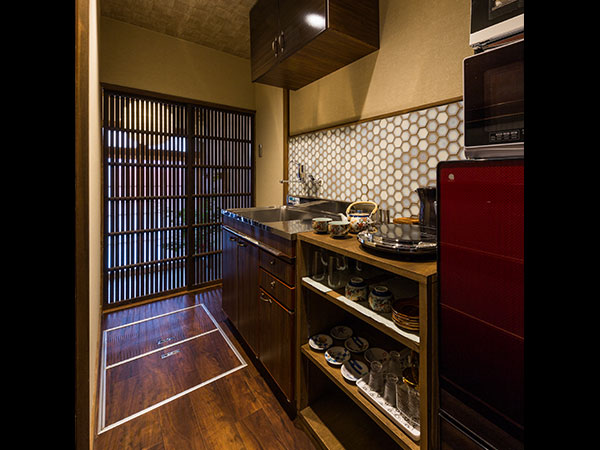 Finished as an antique style kitchen, featuring hexagonal tiles, each a slightly different color. Equipped with general cooking utensils, so you can cook here too. You can also enjoy the tea set waiting as a welcome drink.
Closet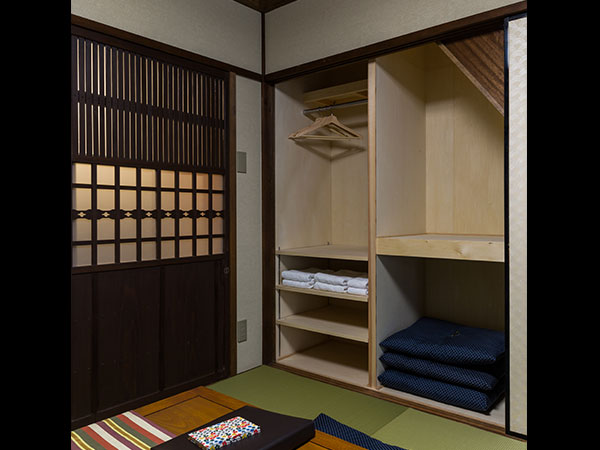 There is a closet waiting behind the sliding panels in the 1st floor Japanese room. Extra towels will be left here for customers staying longer than 3 nights, please make use them.
Bathroom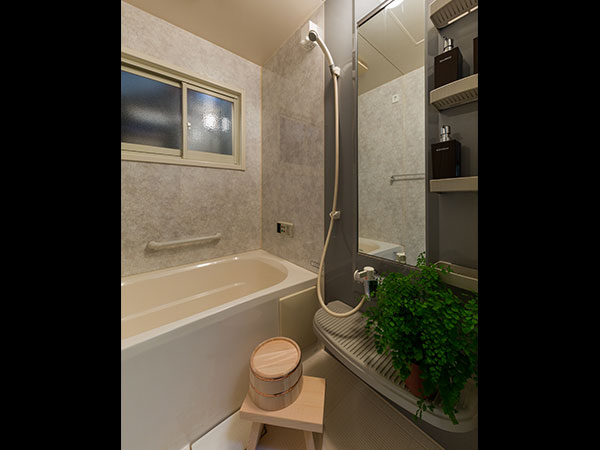 Washroom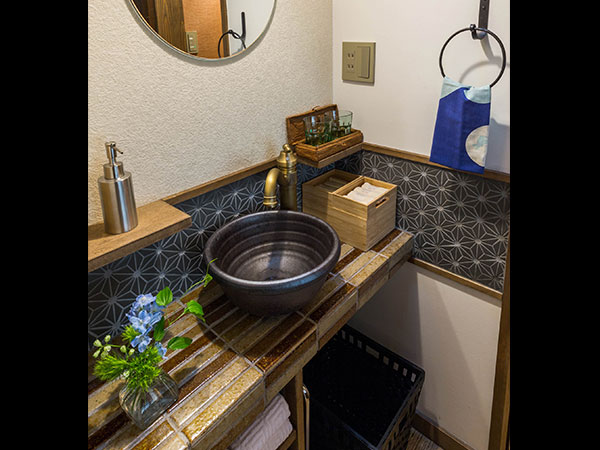 The specially ordered taps, tiles, and wash basin preserve the townhouse atmosphere, but also give it a special kind of charm. Free toothbrush sets are prepared as an amenity, please do use them.
Restrooms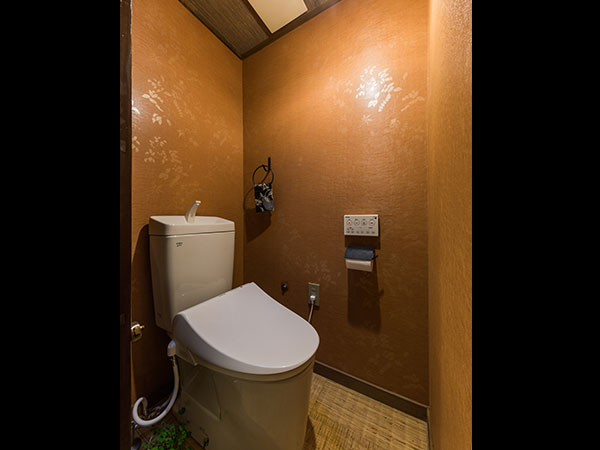 A flush toilet with bidet function. The Japanese paper style wallpaper with watermark style patterns is rare and impossible to find now. It makes for a gentle, relaxed atmosphere.
2nd floor Japanese room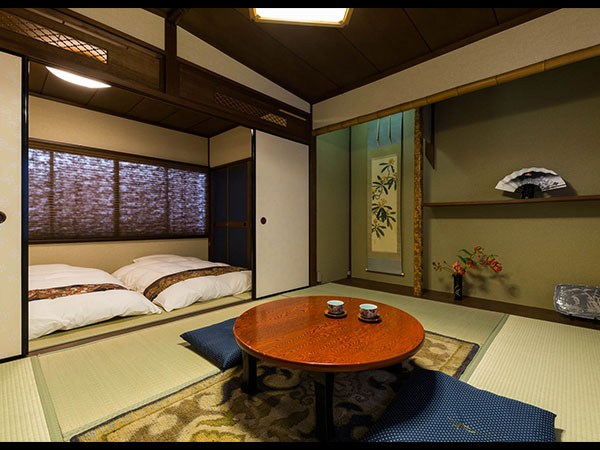 The Kyoto tatami with old fashioned edging gives the room a relaxed feel different again to the Ryukyu tatami. Kyoto tatami is notable for being larger than standard tatami at 6 shaku 3 sun long and 3 shaku 1.5 sun wide (1909x955mm) per mat. The hanging scroll and other decorations in the alcove are changed with the seasons, so we hope you will enjoy these too.
2nd floor bedroom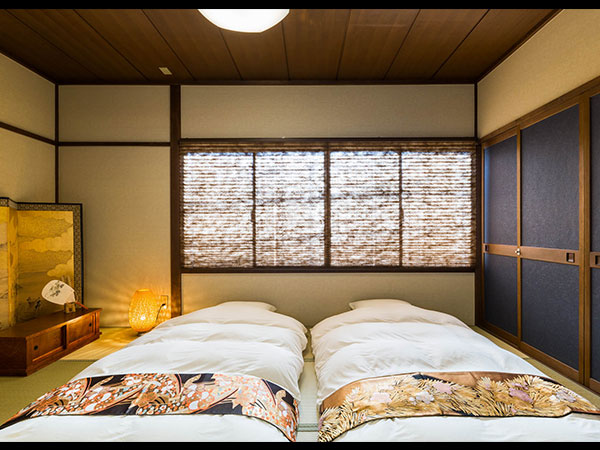 Have a comfortable sleep in our quilt down beddings and our thick mats.
Google Maps route instructions
Please input the below place names or
locations and search on Google Maps.


Access from Kyoto Station

Taxi

Please tell the driver to head for Horikawa-Matsubara. Copy the print-out map above and take it with you and everything will go smoothly.
Journey time: Approximately 7 mins, ¥1,000 *may vary depending on traffic conditions

Bus

Kyoto StationCheck the bus terminal timetable

City Bus 9 to Nijo Castle/Nishigamo Bus Depot (approximately 8 minutes, ¥230, buses every 5-10 minutes)

Horikawa-Matsubara Directions from Horikawa-Matsubara

Approximately 2 minutes' walk (160m)

Kyohanayado Hontei (approximately 10 minutes in total, ¥230) *may very depending on traffic conditions.

Subway

Kyoto Subway Karasuma Line Kyoto Station

Towards Kokusaikaikan Station (2 minutes) ¥210

Gojo stationDirections from Gojo Station

Approximately 12 minutes' walk (1km)

Kyohanayado Hontei (approximately 15 minutes in total, ¥210)

Access from Hankyu Omiya Station

Hankyu Omiya StationDirections from Hankyu Omiya Station

Approximately 7 minutes' walk (650m)

Kyohanayado Hontei

Access from the direction of Hankyu Karasuma Station

Hankyu Karasuma Station (Subway Shijo Station)Directions from Shijo Station

Approximately 14 minutes' walk (1.2km)

Kyohanayado Hontei
Check-in・Check-out
Basic charge
Saturday / Day before holiday
¥39800〜
Number of guests
Maximum number of guests
8 persons
Basic information
Name

Kyohanayado Hontei

Address

721-3 Raikodo-cho, Shimogyo-ku, Kyoto

Closest train stations

7 minutes from JR Kyoto station by taxi, approximately ¥1000. 8 minutes from Kyoto Station by Kyoto City Bus No. 9
Hankyu: 7 minutes' walk from Omiya Station, 11 minutes' walk from Karasuma Station
Subway: 10 minutes' walk from Gojo Station

Room type

Private rental

Bath

1 bathroom

Room facilities

Refrigerator, television, air conditioner, under-floor heating, sunken table, oven/toaster, microwave, table-top IH stove, Wi-Fi

Fixtures & amenities

Bath towels, hand towels, tooth brushes, toilet paper, shampoo, conditioner, body soap, green tea, black tea, coffee

Parking

There is no parking space. Please use nearby coin parking.

Transport methods to major sightseeing spots

*Gion: Kyoto City Bus No. 46 or 201, from Shijo Omiya bus stop (7 minutes' walk from the property)
*Kiyomizu-dera, Tofuku-ji, Sanjusangen-do: Kyoto City Bus No. 46 or 201, from Shijo Omiya bus stop (7 minutes' walk from the property)
*Nijo Castle: Kyoto City Bus No. 9 or 28, from Horikawa-Matsubara bus stop (2 minutes' walk from the property)
*Kinkakuji: Raku Bus 101, from Shijo Horikawa bus stop (7 minutes' walk from the property)
*Fushimi Inari: 5 minutes to Inari Station on the Nara Line from Kyoto Station (for directions to Kyoto Station, see above)
*Arashiyama: 25 minutes direct on the Randen tram line from Randen Shijo Omiya Station (7 minutes' walk from the property)
*Nishiki Market: 15 minutes' walk from the property

House rule

NO SMOKING
NO PARTY and NO Loud music in the room
BE QUIET in the apartment building
DON'T Go out on the BALCONY
Please refrain from loud noise or activities which may cause trouble for those living nearby.